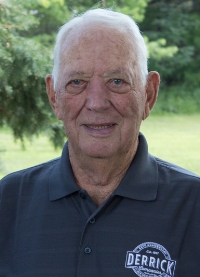 William "Bill" H. Derrick Jr., age 89, of New Richmond, Wisconsin, passed away peacefully in his sleep on Tuesday, July 31, 2018 at The Deerfield in New Richmond. He was born on June 23, 1929 to William H. and Beatrice (Durand) Derrick in Bigelow, Minnesota. Bill graduated from Spooner, WI High School and became a carpenter. Bill married Mary Ann in 1953 and after a few years they settled their family at their farm in New Richmond, WI. in 1960. Bill believed the key to success was hard work and showed that by both farming a 320 acre farm while working full time for a home builder in Stillwater, MN. In 1967 with Mary Ann as his partner he decided to risk it all when he started Derrick Construction which has affected the lives of so many people over the years. Even though he "retired" when he was 62, he still kept himself actively involved in the business he started and loved so much.
Bill was very passionate about not only his business but also the homebuilding industry. He helped to start the local chapter of the Homebuilders Association and was involved in leadership also at the state and national level. While maintaining a very busy schedule, he always found time for community involvement especially with the local Kiwanis club which he was recently honored as a 50-year member. Family was very important to Bill especially during the summer months at the family cabin. He also enjoyed hunting, fishing, golfing, traveling and enjoying the warm weather in Florida during the winter. He spent the last years of his life being at his wife's side while she battled Alzheimer's until she died 6 months ago.
Bill was preceded in death by his parents; and brother, Loren. He is survived by his children, William (Jeanne) Derrick, Tom (Janice) Derrick, Steven (Meg) Derrick, Ronald (Kathleen) Derrick, Jeanne (Ron) Cook; grandchildren, W. Michael Derrick, Lydia (Kelly) Skadberg, Wesley Derrick, Shelby Derrick, Michael (Jennipher) Derrick, Michelle (Kevin) Lorentz, Chad (Vicki) Derrick, Blakeley Derrick, Sean Derrick, Evan Derrick, Cassie Cook, Morgan Cook; 9 great-grandchildren; and brother, Gaylen (Martha) Derrick.
Mass of Christian Burial will be held at 2 PM on Sunday, August 5, 2018 at the Immaculate Conception Catholic Church in New Richmond. Visitation will be held for three hours prior to Mass at the church. In lieu of flowers, memorials are preferred to the American Heart Association.