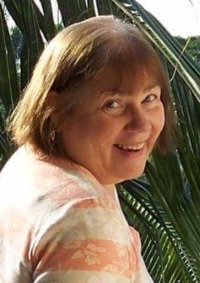 Vicki Thorson
Age 62
Star Prairie, Wisconsin
Vicki Lynn Thorson, age 62, passed away on June 27, 2017 at her home in Star Prairie, Wisconsin.
She was born on September 13, 1954 in Superior, Wisconsin. Vicki spent most of her childhood summers with her beloved siblings at her grandmother's house on Madeline Island on Lake Superior. She graduated from Tartan High School, then went onto attend Crown College for two years. In her young adulthood, Vicki helped run the family business at St. Paul Honda. After her father's passing in 1981, she took on a management role and helped her mother continue the business for 15 years. Vicki met and worked with Gayle Thorson for three years at the Honda shop, they went on to marry in 1990. With the encouragement of family, Vicki went to the University of Minnesota to finish her schooling, earning her Bachelor's degree in child psychology. She raised three children, Sarah, Valerie and Alex; they took many family vacations to Florida, Texas, the Black Hills, and Niagara Falls to name a few. Many summer weekends were spent watching the races at Elko Speedway. She was a daycare mom to 12 children while the family lived in Woodbury, Minnesota. After moving to New Richmond, Wisconsin in 2001, Vicki worked with hundreds of local children through the Head Start program, first as an assistant teacher, then running her own classroom. Vicki loved hosting extended family, whatever the occasion, and she provided hours of conversation and delicious meals. Her passion for travel brought her to places like Hawaii, Italy, and France with her mother and siblings. Even as an adult, Vicki loved being near Lake Superior, and would travel to Madeline Island each summer.  In recent years, she spent much of her time in Cumberland, Wisconsin where she and Gayle purchased a beautiful piece of land. They spent weekends clearing brush and grooming the land. Vicki loved to admire the wildflowers in spring, and see the colorful leaves change in the fall.
Vicki should be remembered for her strong faith in Jesus, her love of children and their innocence, and her kind heart. She was a wonderful daughter, wife, mother, and friend, and will be sorely missed by those whose lives she touched.
She was preceded in death by her father, Harold Voth; and sisters, Valerie and Vonni.
Vicki is survived by her loving family; husband, Gayle; son, Alex; daughters, Sarah and Valerie; mother, Dorothy (Cloutier) Voth; and brother, Vance.
Services were held on Saturday July 1, 2017 at the Cullen Crea Funeral Home in New Richmond, Wisconsin.