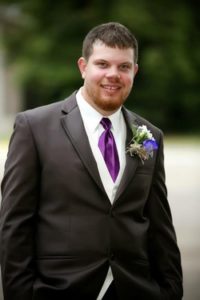 Travis Jerome Gillen "Biggie", age 29, of Minot, ND, passed away on Thursday, August 17, 2017, at Trinity Hospital from injuries sustained in an automobile accident.
Travis was born on January 29, 1988, in New Richmond, WI, the son of Jerome and Connie (Dahl) Gillen.  Travis graduated from New Richmond High School in 2006.  After graduation, he held various job positions and spent his free time enjoying his many friends and family.  He moved to Minot, ND, in July of 2010 to pursue a career in the oil field.  Here he met his wife, Christiana Wood.  Travis and Christiana were united in marriage on August 23, 2014, in Walhalla, ND, surrounded by friends and family.  On July 29, 2016, their son, Leo Duane Gillen was born.
Travis loved his wife and son with all of his being.  He was a devoted husband, father, best friend, uncle, son, brother and hero.  Travis's career with Prefx Wireline Services was one of his many passions.  He enjoyed his time as a wireline operator, as well as all of his coworkers, which became his home away from home family.
Travis spent all of his spare time living life to the fullest.  He touched the lives of so many people, but his life was most complete when he was with his family.  His contagious laugh and personality will be forever remembered.
He is survived by his wife, Christiana and their son, Leo Duane Gillen, Minot, ND; parents, Jerome Gillen, New Richmond, WI and Connie Gillen, Roseau, MN; sister, Heather (Eric Joki) Gillen, White Bear Lake, MN; grandparents, Rose Dahl Fredrickson, Roseau, MN, Francis (Linda) Chaput, Walhalla, ND and John (Arlette) Wood, Minot, ND; Mother and Father-in-law, Duane (Wanda) Balsdon, Walhalla, ND; brother-in-law, Steven (Katie) Balsdon, Hawley, MN; nieces and nephews, Madison, Erika, Zander and Teegan and many extended family members and friends.
He is preceded in death by his grandparents, Joseph and Lorraine Gillen, Russell Dahl, Roland Fredrickson, aunt, Madelyn (Dahl) Kitzan, best friend Garrett Hanson and his beloved dog, Midnight.
Memorial Service:  Thursday, August 24, 2017 at 10:30 a.m. at the Walhalla Lutheran Church, Walhalla, ND.
Visitation:  Sunday, August 27, 2017, from 4 p.m. until 8 p.m. at Cullen Crea Funeral Home, New Richmond, WI.
Mass of Christian Burial:  Monday, August 28, 2017, at 11 a.m. with visitation one hour prior to Mass at Immaculate Conception Catholic Church, New Richmond, WI.