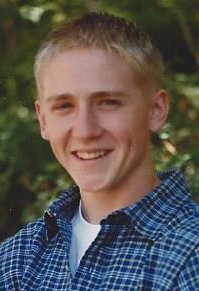 Scott David Frank, age 33, died in his home in Duluth, MN on May 8, 2017. Scott graduated from New Richmond in 2002 and made a lasting impression on his teachers and friends along the way. He had a sharp wit, contagious smile, sense of humor, and a fearless sense of adventure. Scott loved animals. Growing up he had just about every pet imaginable, including a bearded dragon and desert sand tortoise named Four Star General Lacey. He loved being outdoors and showed us much about the wonders in nature. Scott was an amazing fisherman; he always wanted just one more cast and taught us how to give it a little jig. He also enjoyed disc golf, philosophical discussions, and spending time with friends.
He is survived by his daughter, Aiden Joan; parents, Dave and Lisa (Olson) Frank; and his sisters, Emily (Dan) Schimelfenyg, Madeline (Cory Degner), and Meghan; grandmothers, Mary Olson, and Joan Frank. Also survived by his nephew, Henry; and many aunts, uncles, and cousins. He was preceded in death by his grandfather, Merlin Frank.
A Celebration of Life was held from 4-7 PM on Friday May 12, 2017 at the Knights of Columbus Hall. In lieu of flowers, memorials are preferred to the family.
Scott will be greatly missed by all who knew and loved him. Although his life was too short, we take comfort in knowing he is at peace. Memorials received will go towards his daughter.