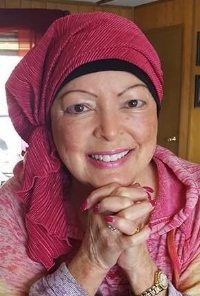 Sandra "Sandy" Lais, 65, of Somerset, was surrounded by her family as she entered Heaven's gates on May 1st, 2017 after a courageous battle with cancer. Sandy always put a smile on everyone's face with her jokes, laugh and sense of humor. She loved the simple things in life, playing cribbage with friends, taking boat rides and sipping martinis. The one thing she loved most was spending time with her husband, daughters, sons-in-law and grandbabies. Sandy and Pat celebrated their 36th wedding anniversary and just recently held their fourth grandchild on April 27th.
Sandy is survived by her husband, Pat; two daughters, Krystle (Brian) Ricci, Jillian (Derrick) Johnson; and four grandchildren, Sienna Ricci, Declan Ricci, Bentlee Johnson, Reed Johnson; siblings, Jaque (Mick Mettler) Montpetit, Geri (Mick) Hilpisch, Debbie (Mike Faust) Lais, and John (Kelly) Montpetit. She was preceded in death by her parents, Arthur "Archie" and Priscilla "Pat" Montpetit; and brother, Arthur "Archie" Montpetit.
The relatives and friends of Sandy are invited to attend the visitation on Thursday, May 4, 2017 from 4-7pm at St. Anne's Catholic Church (Beaudette Center) or Friday, May 5, 2017 from 10-11am. The funeral service will be held Friday May 5th, 2017 at St. Anne's Catholic Church at 11am, burial immediately following. Luncheon and celebration of life will be held at General Sam's.