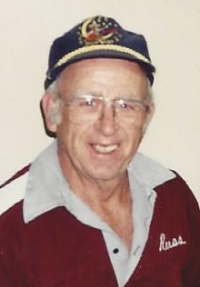 Russell Robert Brown, age 93, passed away on April 2, 2017 at the Deerfield Gables in New Richmond, Wisconsin. He was born October 16, 1923 to Gust and Lillian (Kress) Brown in Somerset, Wisconsin. Russell was a founder and partner of Float Rite Park. He was also a farmer, and retired from Andersen Windows after 34 years of service.
He was preceded in death by his parents; siblings, Gilbert Brown, Elsie Miller, Baya Wert, Ray Brown, Milton Brown, Floyd Brown, Earl Brown, Gust "David" Brown, and Ethyl Lyksett. Also preceded in death by his nephew, Burt Brown; and relative, Bert Copeland. Russell is survived by 22 nieces and nephews; and sisters-in-law Eleanor Brown and Darlene Brown. He is also survived by his longtime friends and special neighbors, Larry Martell, Bob Maitrejean, Joyce Hecht, and Mark Dvorak. The family gives a special thanks to the caregivers at the Deerfield Gables and the St. Croix Hospice staff for caring for Russell.
Funeral service will be held at 11 AM on Friday April 7, 2017 at Christ Lutheran Church in Somerset, Wisconsin. Visitation will be held for one hour prior to service at the church. Interment at Emmanuel Lutheran Cemetery, luncheon to follow at the American Legion in Somerset.