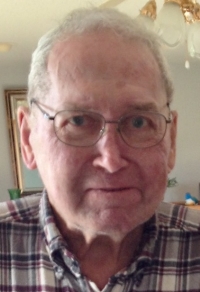 Robert Raymond Maitrejean, age 84, passed away on May 18, 2018 at his home in Somerset, Wisconsin after a long battle with cancer. Robert was born on June 21, 1933, to Pearl and Delia (Germain) Maitrejean. He married Doris Ann Brennan on October 19, 1957.
He was preceded in death by his wife, Doris, of almost 60 years; parents; son, Daniel; sisters, Ione Larson, Marianne Ball; and brothers, Eddie and William Maitrejean, and great-grandchild, Sydney Haggerty.
Robert is survived by his children, Barb (Leo) Haggerty, Tim (Linda) Maitrejean, Joyce (Terry) Nesvold, Pam (Dave) Kieckhoefer; grandchildren, Shaun (Christie), Kelly, Kate Haggerty, Kelsey (Maitrejean) Moe, Nick and Zach Maitrejean, Lukas (Natalie) and Kazlin Rivard, Ryan Nesvold, Ben (Nicole Lundgren), Bridget, Billy Kieckhoefer; great grandchildren, Haleigh and Caleb Haggerty, Jacyn Brantner, Jordan and Kashton Rivard; sister, Corrine (Maitrejean) Zahnow; and brother-in-law, John Ball. Also survived by many nieces, nephews, countless dear friends and neighbors.
Robert served as a corporal in the 53d Infantry Regiment at Fort Richardson Alaska during the Korean war. He was very involved in the Somerset American Legion Post 111.
Robert had a deep love of farming, gardening, working hard, and spending time with his friends and family. He welcomed anyone and everyone into his life and into his home. He worked many years in construction. He served his community in many ways through St. Anne's church, the American Legion, various boards and lending a hand wherever he was needed.
Mass of Christian Burial at 11 AM on Tuesday May 22, 2018 at St. Anne's Catholic Church in Somerset, WI. Visitation for two hours prior to Mass at the church. In lieu of flowers, please consider contributing to the Lymphoma Cancer Research, Somerset American Legion or hospice organization of your choice. Bob was an Honorary Life Member of the Knights of Columbus with 56+ years of service.