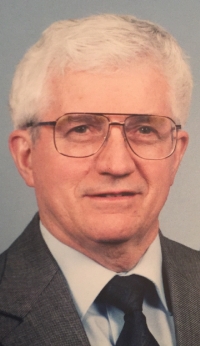 Patrick William McGurran, 82, of Amery WI, formerly of New Richmond, a man of deep faith, died August 14th surrounded by the love of God and his family. Patrick was devoted to his family, friends, the Church, community and North Dakota. He was a man of integrity: honest, generous, hard-working and loyal. Pat was a graduate of the University of North Dakota. He served in the army as a medic. He started working at age 6 selling newspapers on a corner in Grand Forks, as a kid working in the fields picking potatoes, then following in the family business as a plumber; a skill he shared generously with family and friends his whole life. For the majority of his career, Pat worked as a corporate credit manager for Domain and Harvest States (CHS) Cooperative.  He was elected Alderman and served as committee chairs on the New Richmond City Council and was on the Planning and Utilities Commissions. Pat was an active member at Immaculate Conception from Parish Council to serving donuts. He was a 57 year member of the Knights of Columbus, taking many roles with the council. But, there was nothing he loved more than being with his wife, putting a kid to work in the garden, or having a grandchild tag along on his many errands. His Irish roots ran deep.
Pat was preceded in death by his parents, William and Grace (Brown) McGurran; brother, Timothy; and son-in-law, Bob Hanson, Jr.
He is survived by loving wife of 56 years, Barbara (Weber); and his children, Mary (Dan Schmit), Joseph (Sandra), Kathy (Todd Meinen), Sean (Rachel), 15 grandchildren, brothers, sisters, in-laws, nieces, nephews, friends and brother Knights.
The family wishes to express appreciation for the caregivers who helped him remain at home during many years of illness and to Willow Ridge Health Care Center and St. Croix Hospice who provided excellent care and helped ease his journey.
Visitation will be held at 11 AM on Friday August 18, 2017 at the Immaculate Conception Catholic Church in New Richmond, Wisconsin. Mass of Christian Burial will be held at 12:30 PM following the visitation at the church.