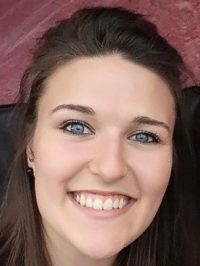 Natasha Barbara Lukacs born on September 20, 1995 in St. Paul, Minnesota suddenly passed away on
August 25, 2018, in Mora, Minnesota. Natasha is survived by her fiancé, Keenan Hansen; mother, Cynthia Lukacs (Matt Haseman); father, Bela Lukacs; sisters, Zoey Lukacs, (Brad Day), Anika Lukacs; nephews, Arian Day, Jaylon Day; grandparents, Dennis & Jean (Marshall) Widenstrom; aunts, Avia Lukacs & R.J (Judd), Ilona Lukacs, Melissa Curtis; uncles, Paul & (Shannon) Widenstrom, Ryan Widenstrom; cousins, Randi Curtis, Joe Curtis, Amanda Martin, Sarah Haas & Andrew (Haas), David Adams, Mia Widenstrom, Chace Widenstrom, Brittany & (John Sassen); grandmother, Nina Sullivan.
Natasha had an infectious smile and bright blue eyes that drew people to her. She was passionate about horses and spent many years participating in 4-H with her horse Avidan. Natasha learned an appreciation of nature early on in life from her grandpa Dennis and was eager to spend her time outdoors enjoying hunting deer, turkey, and bear and fishing and kayaking. She was at peace in the tranquility of the outdoors. Natasha graduated from Cambridge-Isanti high school in 2014 and went on to receive her Bachelor of Arts Degree in Geology from Bemidji State University in 2017. Natasha excelled in education and graduated with Honors from both high school and Bemidji State University. Natasha was very involved in the sustainability program and loved to educated people on the importance of sustaining our environment.
Upon graduation, Natasha decided on a career in Zoning and Planning and was hired by the City of Blaine as a Zoning and Planning Technician. Her drive and talents allowed her to be seen and recognized in many ways. Natasha she was the first to delve into anything and fix it or make it work. Her drive to succeed and help others succeed coupled with her kind, caring, compassionate personality. She loved spending time with her fiance, her family, especially her two sisters with whom she was extremely close and spoke to everyday, they were her best friends. She found solace in country music. She also loved her cat Princess. She will be missed by everyone that came in contact with her. Her sparkling personality instantly impacted everyone she met. May she rest in peace.
A celebration of Natasha's life will be held on Friday August 31st from 4-7 PM at SIMONET FUNERAL HOME 6429 Osgood Avenue North in Stillwater, Minnesota. PLEASE NOTE Due to construction please use the funeral home entrance on the North Side of Orleans Street & Osgood Avenue. Memorials preferred to the family.
If you or anyone you know is reaching out for help please visit http://save.org/ or call 1-800-273-8255 in honor of Natasha. September is National Suicide Awareness month.