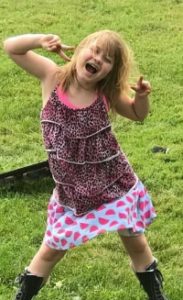 Morgan Lynn Greene, age 10, Of New Richmond, WI passed away Saturday October 7, 2017 as the result of a tragic accident.
Morgan will be remembered for her way of brightening even the darkest room with her charm and wit. She was a little girl with an old soul!
Her favorite activities included biking, playing on her electronics, drawing, swimming, playing with her sisters, and friends. She had a love for animals, with her favorite being the fox.
She was having a blast in 5th grade at Paperjack Elementary, where she had made so many wonderful connections with teachers and staff.
Morgan became a hero, by giving the gift of life, by donation to many others with her passing.
Morgan is survived by her parents Brent and Stacy Greene; her three sisters Michelle, Abagail and Skye; her paternal grandparents Claudia and Michael Greene; and many aunts, uncles, cousins and many friends.
Morgan was preceded in death by her maternal grandparents Paula and Daniel Leary.
Our sweet Morgan will be deeply missed by so many. A celebration of Morgan's life will occur on Friday October 13, 2017 5:00PM, at the First Lutheran Church, 218 County Road K, New Richmond. Visitation for two hours prior to service at the church. We ask that you please wear YELLOW for Morgan! After her service, we invite you to stay for refreshments.
Due to allergies, we ask that in lieu of flowers, donations may be made to Halos of the St. Croix Valley, 207 South Knowles Avenue, New Richmond, WI, in memory of Morgan.
Thank you to Robert at Cullen-Crea Funeral Home, for helping Halos with arrangements.