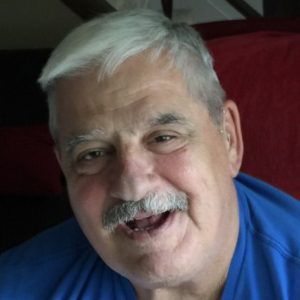 Michael James Jacoby, age 71, of Stillwater, MN passed away on January 17th surrounded by his loving family. He was born on November 29, 1946. He was raised in Stillwater and graduated high school in 1964. He served in the Army, completed two tours in Vietnam and was honorably discharged in 1971. He spent 35 years at Andersen Windows, until his retirement in 2003, as a Maintenance Supervisor. He worked hard, enjoyed the people he worked with, and the lifelong friendships he made.
Mike was an avid outdoorsman. He enjoyed fishing, hunting, gardening, and going to sprint car races. His true passion and impact in his life was family, especially his children and grandchildren. He had a heart made of gold. He never met a person or a cause he could not support. He will be greatly missed and fondly remembered.
Mike was blessed with four children from two marriages: Jeff (Denise) Jacoby of Stillwater, Craig (Jody) Jacoby of Stillwater, Scott (Jessica) Johnson of Hugo and Billi Jo (Chris) Aamodt of Stillwater. He is also survived by his first wife, Caroline Jacoby-Nygren of Stillwater, his second wife, Susan (Danielson) Jacoby of Fort Lauderdale, Florida; 13 grandchildren; 1 great grandchild; and his companion Kathy Broaddus, of Elk Mound, Wisconsin. He is also survived by his siblings, Jean Jacoby of Stillwater, Joe (Sue) Jacoby of Stillwater, Anita (Lanny) of Bastianson of Austin, Margie Harkinson of Stillwater and Marie (Pat) Foley of Stillwater. He was preceded in death by his parents, Howard (Stump) and Lorraine (Ecker) Jacoby.
Visitation will be 12PM (noon)-4PM on Sunday January 21st at Simonet Funeral Home in Stillwater, MN. Funeral Service at 11 AM on Monday January 22nd at Simonet Funeral Home. Private burial will be held at Fort Snelling National Cemetery.