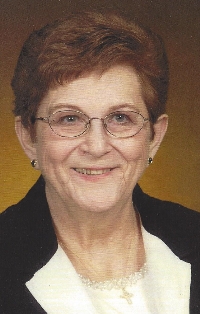 Marjorie Ann Phaneuf 1938-2017
Marjorie (Marge) Ann Phaneuf, age 78, passed away peacefully Thursday March 9, 2017. She was born April 19, 1938 in Hastings, Minnesota to Charles and Leona Pape. She was baptized and confirmed in the Catholic faith. Marge attended and graduated school in New Richmond, Wisconsin. She married Bob Utgard and had four children before their marriage dissolved. She then married her longtime friend Bob Phaneuf who had four children with his late wife Viola. After Bob and Marge married they had one child. Marge was a homemaker and for many years she and Bob ran a resort on Spirit Lake in Frederic, Wisconsin.
Marge's real and abiding passions were her family and friends. There was nothing she did with greater joy than entertaining, feeding large groups of people, and sitting on the porch with Bob enjoying the lake view. She used her secret ingredient (love) to make tempting baked goods, all the while humming a tune and dancing in the kitchen. She had a fondness for sharing her recipes, laughing, playing cards or games on the computer, traveling with family, dancing, and playing her organ.
Marge was preceded in death by her parents; her sisters, Mary Kay Pape and Susan Pape; husband, Bob Phaneuf; as well as her children, Barry Phaneuf and Becky Selzler; and her granddaughter Paula Anderson.
Marge is survived by her two brothers Jim (Betty) Pape & Allen (Carol) Pape, children, Cindy (Rick) Morton, Stans (Sharon) Phaneuf, Becky (Jerry) Swenson, John Utgard, Mary (Terry) Kastens, Barb (Greg) Brannon, Beth (Mark) Thompson, honorary son Neil (Francis) Porter; daughter in law, Virgina Phaneuf; son in law, Larry Selzler; grandchildren, Jason Phaneuf, Patrick Phaneuf, Staci Phaneuf, Trent (Ashley) Morton, Jayde (Teresa) Phaneuf, Nicki (Troy) Snethen, Megan Phaneuf, Jared (Michelle) Selzler, Jenna (Mat) Gilson, Kaitlyn Swenson, Logan Swenson, Jolene Kammerud, Matt Utgard, Laura Utgard, Anthony Kastens, Anna Kastens, Liz (TJ) Meixner, Nathan Thompson, Maddie Thompson; and many great grandchildren. All of these she loved and touched deeply.
The family wishes to thank all those who cared for her over the last couple of years at the St. Croix Health Center.
Mass of Christian burial will be held at 11 AM on Tuesday March 14, 2017 at the Immaculate Conception Catholic Church. Visitation will be held for one and a half hours prior to Mass at the Church. Should friends desire; memorial contributions may be sent to the family to help with the cost of funeral arrangements.