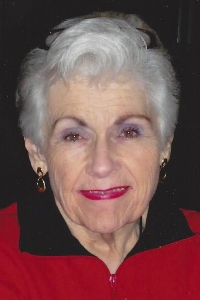 Margaret Anderson, born Margaret Mary Earley, passed away peacefully at The Deerfield in New Richmond on September 17, 2018 at the age of 81.
The daughter of Elmer and Mabel (Ward) Earley, Margaret was born December 30, 1936 on the farm in Erin Prairie, WI. She was the sister of Helen, Ruth, Lucille, Shirley, Miles, Patrick and Kevin. Margaret was the youngest sibling and is preceded in death by her parents, siblings and beloved husband, Dwight.
Margaret (Mugs) Earley married Dwight Anderson on September 28, 1963. Together they lived a life of faith, love, laughter and family. Margaret was a real character and loved a good prank. On Packer game day, she was known to make collect calls to her Viking rivals in Minnesota stating that the call was from Bart Starr. She loved to sing and her beautiful voice will always be remembered. Her laughter, big smile, and red lipstick will never be forgotten. She enjoyed family gatherings, Sunday dinners, her children and grandchildren. In her younger years, Margaret worked at Northwest Airlines and lived in St. Paul. Later, she worked for the Vocational School in New Richmond and after that she worked for many years and retired from the New Richmond High School. During her life she knew many hardships but endured them with grace, poise, and dignity; she was stricken with polio at age 9 and spent a year in a body cast and afterwards endured many surgeries to recover. She never complained. Margaret was a woman of faith who always had a Rosary in her pocket and a prayer on her lips.
Margaret is survived by her daughters, Monica Rominski (Matthew) of New Richmond, and Molly Chesney of Louisville KY; grandchildren, Jack Johnston (Nikki), Clare Johnston, Madeleine Chesney and Brian and Lauren Rominski.
Visitation will be held from 5-7 PM on Friday September 21, 2018 at the Cullen Crea Funeral Home. Mass of Christian Burial will be held at 10:30 AM on Saturday September 22, 2018 at the Immaculate Conception Catholic Church. Visitation also for one hour prior to Mass at the church.
Memorial contributions may be made to the Alzheimers Association of America.