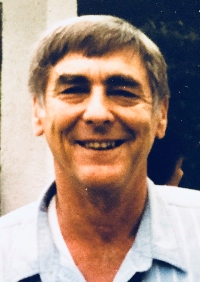 John Robert Zoller, age 83, of Stillwater, Minnesota passed away surrounded by his family on November 21st 2017.
John was a lifelong resident of Stillwater, Minnesota and a veteran of the United States Marine Corps, Assistant Chief for the Stillwater Fire Department with 25 years of service and retired as Fire Chief at the Federal Cartridge Army Ammunition Plant. John's passions were tree cutting, motorcycle trips and camping. Following a stroke, John was cared for in his home by his devoted family for the past nineteen years.
He was preceded in death by his son, Kenneth John; siblings, David Zoller, Nancy Mulkey, Mary Faust; parents, Raymond and Leora (Babe); and in-laws, Louis and Helen Garavalia. John is survived by his loving wife of 60 years, Joyce; children, Kim (Tim), Tommy, Johnny, Michael (Kelli), and Steven (Sarah); Fourteen grandchildren and thirteen great grandchildren also his many  grand dogs, including River and Rebel.
A special thank you to The Greeley Healthcare Center and Lakeview Hospice.
A Funeral Service will be held at 11 AM on Thursday November 30, 2017 at St. Paul's Lutheran Church 609 5th Street South, Stillwater, MN 55082. Visitation will be held for one hour prior to service at the church, luncheon to follow service. Memorials preferred to St. Paul Lutheran Church or donors choice.