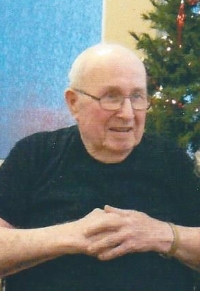 John Lawrence Utecht, age 81, passed away on February 25, 2017 at the St Croix Health Center in New Richmond surrounded by his loving family. He was born on March 21, 1935 in St. Paul, Minnesota to John & Stella (Wyzykowski) Utecht. At a young age, John farmed with his dad and father in law. When he moved the family to New Richmond, he worked for many years on the "day shift" for the City Street Department and "night shift" for Doboy Feed.  After retirement, he worked part time as the "sergeant of arms" for both the City Recycling Shed and City Land Fill.  He also was the city Dog catcher.  In his spare time, he was a gardener and a woodworker.
He was preceded in death by his parents; wife, Joan (Ludtke); brother, Joe Utecht; nieces, Leanne Hilden & Marsha Lynch. John is survived by his; sons, Michael (Jeanne) & Robert (Darla); daughter, Lorraine (Mark) Stephens; siblings; Hattie (Martin) VanBeck, James (Inez) Utecht, Russell (Jan) Utecht, Marvin (Sharon) Utecht: grandchildren, Christopher (Catharine Shay) Stephens, Kelly (Sean) LaBlanc, Michael (Melisa) Utecht, Jolene (Peter) Henzler, Jeffrey Utecht, Kayla Utecht; great grandchildren, Kirsten LaBlanc, Chant LaBlanc, Mila Utecht, Miley Utecht, Kaylee LaBlanc, Maxwell Henzler, Briarly Shay, Lucille Henzler; great-great grandchild, Cooper LaBlanc, and also many nieces, nephews.
John will be sorely missed by family and friends, and his "second family" who took the greatest care of him at the St. Croix Health Center.
Funeral Service will be held at 12 PM (noon) on Thursday March 2nd at First Lutheran Church 218 Co. Rd K in New Richmond. Visitation for one hour prior to the service at the church.  A private interment will be held at Mound Cemetery in Downing, Wisconsin. In lieu of flowers, the family prefers memorials to St. Croix Health Center.