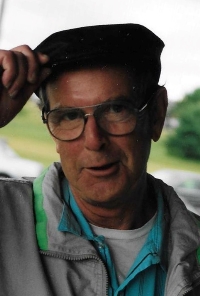 Jack died peacefully at his home surrounded by his loving family on Wednesday July 12, 2017. He was born on March 2, 1934 in Emerald, Wis., to Myles & Anna (Salmon) McNamara. He was preceded in death by his parents; granddaughter, Kaitlyn Hartsel; siblings, Patrick McNamara, Michael McNamara and Tom McNamara. Survived by his loving wife of 59 years, Marilyn (Josephson) children, Sheila (Larry) Wiegand, Anna Marie (Ron) Hartsel, Tim (Melanie) McNamara, Brian McNamara, Jon (Jessa) McNamara; siblings, Rita Sahli, Ann (Len) Potting, Kenneth McNamara, Gene McNamara, Richard McNamara, Terry McNamara; 9 grandchildren with another one on the way, 8 step grandchildren, 3 great grandchildren and 16 step great grandchildren.
Jack grew up on the family farm in Cylon, WI, and graduated from New Richmond High School in 1953. He served as a Corpsman in the United States Navy, and was married to Marilyn Josephson on February 15, 1958 at Blessed Sacrament Church in St. Paul, Minn. He was also a member of the American Legion Post 80 in New Richmond, Wis.
Jack worked at Quality Park Paper Products which was formerly Brown and Bigelow for 43 years. After his retirement, he was a "Jack" of all trades.
He loved fishing, chopping wood, woodworking, playing cards, assisting their neighboring farmers and telling stories and especially spending time with his family and friends.
The family would like to extend a special thank you to Westfields Hospital and the New Richmond Cancer Centers, doctors, nurses and staff, especially to the loving care provided by Mary Gilkerson, Amanda and Jo who are part of the Lakeview Hospice Team of caregivers.  Our family will forever be grateful for these wonderful people who helped Jack and us though this journey.
Mass of Christian Burial 3:00 PM Monday July 17, 2017 at the Immaculate Conception Catholic Church in New Richmond, Wis. Visitation 1 ½ hours prior to the Mass at the Church.
Military honors will be provided by the New Richmond American Legion Butler-Harmon post 80.
Interment Parish Cemetery.