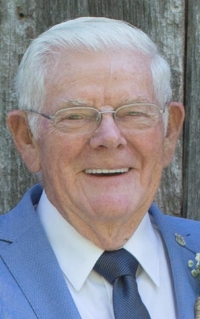 John Kelly "Joe", age 86, lifelong resident of New Richmond was born March 6th, 1931 and passed away peacefully with his family by his side on Wednesday, August 16th at Regions hospital in St. Paul. Joe grew up in New Richmond and graduated from New Richmond High School in 1950. Shortly after graduation Joe was drafted into the Army and served in The Korean Conflict as part of a M1 mortar team in the 45th infantry division. He returned home passing under The Golden Gate Bridge as the armistice was announced.  Joe met and married his wife Mary (Anderson) of Clear Lake in 1962. He worked at Andersen Windows for 39 years and was a member of the quarter century club.
Joe was preceded in death by his parents, George and Margaret Kelly (Curry); Helen (Kelly) and Les Wilen, Ethel (Kelly) Hemingway, Marold Johnson, John McCarthy, Olive and Herman Anderson, Lois and Dick Simonson, Donna and Dick Lichtenberg and Morton Melby.
Joe is survived by his wife of 55 years, Mary Kelly (Anderson); three children, Chris Kelly-Stewart (Patrick), Kevin (Beth) Kelly and Patrick (Barb Graham). His six granddaughters, McKenzie Kelly-Klitz (Lukey), Morgan Kelly, Maddie Kelly, Mallory Kelly, Meghan Stewart, and Grace Stewart; honorary grandchildren, Morgan Graham and Lauren Graham. His sisters, Rita (Kelly) McCarthy, and Marguerite (Kelly) Johnson; and brother-in-law, Al Hemenway; many nieces and nephews and close friends.
Joe was a truly kind, loving father and husband; he was a friend to all. He loved farming, gardening, music, woodworking and always loved the dogs we had on the farm. He had a top notch sense of humor and could tell a story like no other. We are so blessed to have had his kindness and humor touch all of our lives.
Mass of Christian Burial will be held at 11 A.M. on Saturday August 19th, with a visitation one hour prior at the Immaculate Conception Catholic Church in New Richmond WI. A full visitation will be held Friday August 18th, from 5-7 P.M. at Cullen Crea Funeral home in New Richmond. In lieu of flowers memorials are preferred to the family.