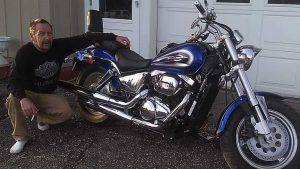 Jeffery A. Roy, age 53, of St. Joseph Township, Wisconsin passed away on July 9, 2018. He was born on July 21, 1964 to Thomas and Monica (Milliron) Roy of Somerset, Wisconsin. Jeff worked as a mechanic at Tuma Excavating and enjoyed motorcycling.
He was preceded in death by his grandparents; and mother, Monica Roy.
Jeff is survived by his father, Thomas Roy; siblings, Roxanne (Jeff) Lytle, Greg Roy, and Melissa Hines. Also survived by nieces, and nephews; Justin, Eric, Brian, and Matt Lytle, Jessie, Kelsie, and Cody Hines; special friend, Stacy Schwan; and daughter, Linda Bowan.
Visitation will be held from 5-8 PM on Friday July 13, 2018 at St. Anne's Catholic Church in Somerset, Wisconsin. Mass of Christian Burial will be held at 11 AM on Saturday July 14, 2018 at St. Anne's with a visitation for one hour prior to Mass at the church.