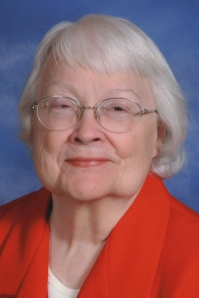 Jeanne Marie Downs-Luebker died Tuesday, August 8, 2017 in Stillwater, MN.  She was preceded in death by her parents, W. Jerry and Myrtle (Brown) Downs of Stillwater, her brother John Dudley Downs of Two Harbors, MN, her brother and sister-in-law Gerald Allen and Jane (Stucky) Downs of San Antonio, TX, her infant daughter Elizabeth Emma Louise Luebker and former husband Eugene Luebker.
She is survived by her children, Michael (Terree) Emrich of Woodstock, IL, Mark (Kathleen Fairfax) Luebker of Brookings, SD, Peter Luebker, Andrew Luebker, John Luebker, all of Stillwater, Elizabeth R. M. Luebker of White Bear Lake, and Paul (Olga) Luebker of Bloomington, MN, as well as 12 grandchildren and 5 great-grandchildren.  She also is survived by her sister-in-law Eva Downs of Two Harbors, cousins, and many nieces and nephews.
Jeanne was born in St. Paul, MN on August 28, 1929.  The family moved to her mother's hometown,  Stillwater, when she was around three years old.  Jeanne graduated from Stillwater High School in 1947 and attended Carleton College.  She married Eugene A. T. Luebker on Dec. 30, 1950. During the 1950s, they lived in Germany, Spain and Northern Ireland, before returning to Stillwater in the early 1960s.
When her children were older, Jeanne worked as a teacher's aide in the Stillwater school district at Oak Park, Washington, and Lily Lake Elementary schools, then as the secretary to the psychologist at the state prison in Bayport and as a receptionist at Lakeview Hospital.
Jeanne loved cooking and baking, entertaining, and spending time with her family and friends.  Always interested in learning new things, she was one of the first of her friends to get a computer and internet access back in the 1990s.  She enjoyed bringing people together, whether through organizing family picnics, class reunions, or monthly retiree breakfasts.  Born with a generous and empathetic spirit, she never hesitated to do what she could to help others in need.  Her warmth, compassion, strength, and love will be deeply missed by all of us.
Visitation will be held on Sunday, August 13 from 4-6 pm at Simonet Funeral Home, 6429 Osgood Ave North.  Mass of Christian Burial will be at 11 am on Monday, August 14 at the Church of St Michael in Stillwater, with visitation one hour prior to the Mass in the church atrium.  Burial at Fairview Cemetery in Stillwater.  Memorials to donor's choice.