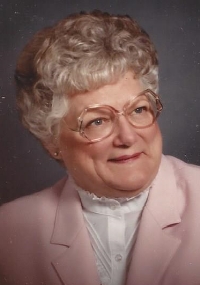 Ione (Murtha) Johnson, age 91, of New Richmond, Wisconsin passed away on April 3, 2018 at the Deerfield Arbor surrounded by family. She was born in Hudson, Wisconsin on March 31, 1927 to William and Lena Evenson.
Ione was preceded in death by her parents; husband, Warren Murtha; second husband, Ray Johnson; longtime friend, Keith Boardman; children, Tom Murtha, Sandra Nummerdor; sons-in-law, Denny Bloom, John Nummerdor; six brothers and sisters. She is survived by her children, Jim (Linda) Murtha, Diane (Craig) Swanson, Linda Bloom; four grandchildren; and nine great grandchildren. Ione is also survived by brothers, William (Colleen) Evenson, Harold (Leona) Evenson; several nieces, nephews, and other family and friends. The family would like to give a special thank you to the staff at Deerfield who took such good care of Ione.
Mass of Christian Burial will be held at 11 AM on Tuesday April 10, 2018 at the Immaculate Conception Catholic Church. Visitation will be held for one hour prior to Mass at the church.