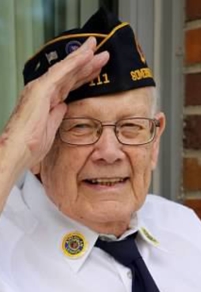 Gerald Wallace Belisle, age 95, passed away peacefully on February 7, 2017 at the Deerfield Gables in New Richmond. He was born on May 3, 1921 to Henry and Louise (Proulx) Belisle in Somerset, Wisconsin. Gerald graduated from Somerset High School, was a WWII veteran, and a member of the American Legion for 70 years.
He was an awesome husband, father, and grandpa. He owned Belisle's Cafe in Somerset. He was also a butcher of La Grandeur's store in Somerset. In 1983 Gerald retired from Anderson Windows. He liked playing cards and going to the casinos.
He was preceded in death by his parents; wife, Marcella; daughter, Amy; 9 brothers and sisters; and son-in-law Robert Hall.
Gerald is survived by his sons, Alan (Sugar), Terry (Claudia), Dean (Debbie); daughters, Sue (friend Pete), Jodie (Larry), Sherrie (Bill), and Diane; 14 grandchildren; 20 great grandchildren; and 1 great great grandchild.
Mass of Christian Burial will be held at 11 AM on Tuesday June 13, 2017 at St. Anne's Catholic Church 141 Church Hill Road Somerset, WI 54025. Visitation will be held for two hours prior to Mass at the church.