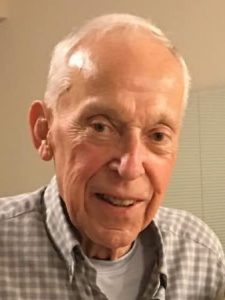 Dwight Mork Anderson, age 84, of New Richmond, Wisconsin passed away on April 7, 2017 surrounded by his loving family. He was born August 9, 1932 to Hartford and Pearl (Mork) Anderson in Star Prairie, Wisconsin. Dwight was in the Army during the war in Korea, and was a member of the American Legion and Knights of Columbus. He worked for many years at St. Croix Press and managed the Bank of New Richmond Insurance Agency. After his retirement, Dwight worked for Doboy Packaging (Bosch) as a transportation and delivery courier.  He enjoyed taking care of his home, mowing his lawn with his John Deere and feeding the birds.  His hands were never idle.  He was a family man, who loved his wife, children and grandchildren with all his heart.  He will be greatly missed.
He was preceded in death by his parents. Dwight is survived by his beloved wife, Margaret (Earley) Anderson; children, Monica (Matthew) Rominski, and Molly Chesney; grandchildren, Jack, Clare, Madeleine, Brian and Lauren; siblings, Curt (Elaine) Anderson, Owen (Roxanne) Anderson, Carrie (David) Peterson, Larry (Susan) Anderson.
Mass of Christian Burial will be held at 11 AM on Tuesday April 11, 2017 at the Immaculate Conception Catholic Church in New Richmond, Wisconsin. Visitation will be held from 5-7 PM on Monday April 10, 2017 at the Cullen Crea Funeral Home and also one hour prior to Mass at the church. Interment at parish cemetery with Military Honors provided by American Legion Butler-Harmon Post 80.