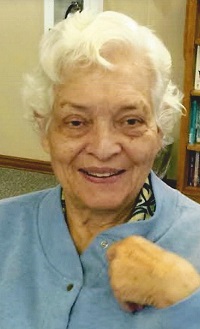 Dorothy M. Gleason, age 88, of New Richmond, Wisconsin passed away on May 3, 2017. She was born on September 6, 1928 in Somerset, Wisconsin. Dorothy lived in the New Richmond area most of her life. She was involved in Women's Homemaker's Club and Women's Altar Society. She loved old time dancing with Bill and playing 500 card game. She was a wonderful homemaker; known for her good cooking and baking. Her family especially enjoyed homemade bread and vegetables from her garden.
Dorothy was preceded in death by her parents, Oscar and Lilah (Redlich) Rivard; beloved husband, William; daughter, Karen; brother, Donald; and sisters, Audrey and Loraine,
She is survived by her children, Donald, Gerald (Vickie), James (Linda), Roger (Cindy), Diane (Tim) Ellis, and Nancy (Brad) Kreidler; 15 grandchildren; 19 great-grandchildren. Also survived by her siblings, Shirley, Richard, Stewart, Harold, and James.
Visitation will be held on Tuesday May 9th from 5-8 PM at the Cullen Crea Funeral Home and also one hour prior to Mass at the Church. Mass of Christian Burial will be held at 12:30 PM on Wednesday May 10th at the Immaculate Conception Catholic Church. Interment at St. Bridget's cemetery in Stanton Township.