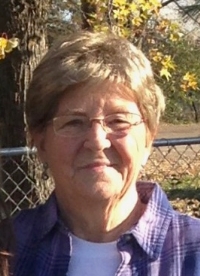 Martha Doris Brennan Maitrejean, age 81, of Somerset, WI passed away on Friday September 1, 2017 after a short fight with cancer.
Doris was born on October 28th 1935, to Clarence and Kathryn (Maloney) Brennan. She Married Robert Raymond Maitrejean on October 19th, 1957.
She was preceded in death by her parents; son, Daniel; sisters, Arlene Germain, and Jean Kearns; brothers, Gerald Brennan and Robert Brennan; great grandchild, Sydney Haggerty.
Doris is survived by her husband, Robert; children, Barb (Leo) Haggerty, Tim (Linda) Maitrejean, Joyce (Terry) Nesvold, Pam (Dave) Kieckhoefer. Grandchildren, Shaun, (Christie) Kelly, Kate Haggerty, Kelsey Moe, Nick and Zach Maitrejean, Lukas (Natalie) and Kazlin Rivard, Ryan Nesvold, Ben, Bridget and Billy Kieckhoefer. Great grandchildren, Haleigh and Caleb Haggerty. Jacyn Brantner, Jordan Rivard. Siblings, Kay Murray, Bette Stephens, Mary (John) Nelson, Audrey (Bill) Nisbit, Jim (Kay) Brennan, Sharon (John) Sias, Carol (Ken) Boyd, Ann Williams, Pat Brennan; sister-in-law, Donna (Jerry) Brennan; and brother-in-law, Patrick (Jean) Kearns. Also survived by many nieces and nephews, countless dear friends and neighbors.
Bob and Doris were married for 60 years. Doris loved her husband and family very much. She enjoyed spending time with them as often as she could; especially the Holidays. As you can see she grew up in a large family. The family has always been close and still are. The extended family gather for any and all occasions. They even create a few of their own theme occasions just to be together.
Doris worked side by side on the farm with her husband Bob. She was a housewife, they raised 4 children on the farm, she held numerous jobs over the years. Her faith was strong, she attended Mass faithfully and participated in Thursday Adoration.
Throughout the years Doris enjoyed several hobbies. Some of them included golf, walking, cards, bowling, snowmobiling, a few trips to the casino, puzzles, vacations at Yellow Lake. She and Bob have visited most; if not all 50 states and traveled to Australia and Canada.
Her smile, kind heart and sense of humor will be missed by all who knew her.
Funeral Service will be held at 11:00 a.m. On Wednesday September 6th at St. Anne's Catholic Church in Somerset, WI. Visitation to be held one and a half hours prior to Mass at the church. In lieu of flowers please consider contributing to Somerset American Legion Women's Auxiliary or Hospice Organization of your choice.