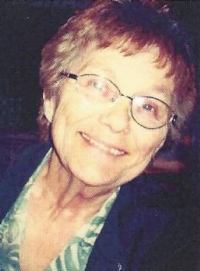 Donna Mae Johnson, age 84, passed away on September 17, 2017 surrounded by her loving family at the St. Croix Health Center in New Richmond, Wisconsin. She was born on November 19, 1932 to Joseph and Monica (Hendriksmeyer) Lewis in St. Paul, Minnesota.
Donna was preceded in death by her parents; beloved husband, Willard "Bill" Johnson; and daughter, Deborah Ann Johnson.
She is survived by her children, Brad (Debbie) Johnson, Denise (Don) Gillen, Diana (Jerry) Peterson, Bart Johnson, Dawn (Dan) Schwan, Doreen (Vincent) Wilson, and Darleen Johnson; grandchildren and great-grandchildren. Also survived by many siblings, sisters-in-law, nieces, nephews, cousins, and friends.
Mass of Christian Burial will be held at 12 PM (noon) on Thursday September 21, 2017 at the Immaculate Conception Church in New Richmond, WI. Visitation will be held for one hour prior to Mass at the church.