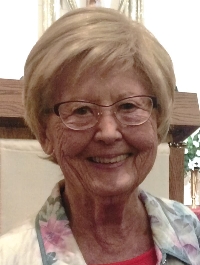 Dolores "Dee" Mary Soderlund, of Somerset, Wisconsin passed away on July 5, 2018 in Siren, Wisconsin surrounded by her loving family. She was born on February 22, 1933 to Richard and Ida (Templin) Haffner in Sauk Rapids, Minnesota. Dee, was a teacher at North St. Paul District #622 and taught at Mahtomedi School District #832. Later, Dee volunteered at Somerset Elementary, she was known as "Nana Dee" to the students and staff. She enjoyed cheering on the Green Bay Packers, reading, doing crafts, fishing, going around Clam Lake on the pontoon, spending quality time with family at the cabin, and spoiling her grandchildren. Dee loved life; she enjoyed sharing stories and jokes with her family, longtime friends, neighbors, doctors and everyone who encountered her. Especially all of the fantastic friends at her winter home, in Pompano Beach, Florida (keep the 4 PM tradition going at Ever April).
She was preceded in death by beloved husband, Robert Soderlund; parents, Richard and Ida Haffner; brother, Delroy Haffner; and nephew, Scott Haffner.
Dee is survived by son, Erik (Lisa); and daughter, Amy; grandchildren; Tyler, Keely, and Sam.
Mom, we love you very, very much and we envision Dad greeting you in Heaven with a two-handed wave saying, "Welcome, welcome! What took you so long?" and your reply would be, " Oh, Bob! I needed to stay for a while with the kids, grandkids, tell a few more stories, jokes and finish my 4pm drink with my stuffed olives."
At Dee's request a private family Memorial service will be held at St. Anne's Catholic Church, in Somerset, Wisconsin.
A Celebration of Life will be held Monday, July 30th from 4-7pm at Manitou Event Center, 2171 4th street, White Bear Lake, MN 55110. Please join our family to celebrate mom's great life.
Memorials Preferred in lieu of flowers.