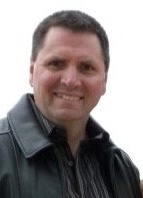 David George Krueger, age 58, of Chaska, Minnesota passed away peacefully at the Maplewood Good Samaritan under Hospice Care on Wednesday, November 22, 2017 surrounded by his loving family. Dave survived brain cancer for 6 years before it became too much. He was born on December 12, 1958, in Saint Paul to Ralph and Nancy Krueger (Ehrgott). Dave grew up playing hockey and never missed a Wild game. Dave was an avid fisherman and hunter his entire life. He worked in the labor industry for many years at Lunds & Byerly's. Dave leaves behind to cherish his memory his daughter, Amanda (Josh) Baker; his significant other, Vivian; sisters, Barb, Sue (Rick) Schwantes; grandchildren, Owen and his baby sister on the way; also his niece, Nicole; and nephews, Travis and Rick.
It was Dave's wish to hold a private ceremony which will be held for immediate friends and family only as we spread his ashes in the places that meant most to him.
In his memory, Dave would love for everyone to take a moment in the outdoors and cherish the gift of life. Any donations that would be beneficial to finding a cure for brain cancer may be directed to Glioblastomafoundation.org.
"Mr. Dave, you are a good man and you will be greatly missed".