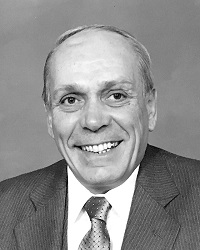 David E. Olson died on Wednesday, April 19, 2017 at Westfields Hospital in New Richmond, Wis. He was born on April 16, 1936 in New Richmond, Wis. to Edwin & Orma (Laughnan) Olson. David was married to Elaine M. Beauvais on April 11, 1959 at St. Anne's Catholic Church in Somerset, Wis. They were blessed with five beautiful daughters, Patty, Tammy, Brenda, Renee and Sue. Dave worked for many years at Derrick Construction and ran their cabinet shop. He was an Army Veteran and a member of the New Richmond Knights of Columbus. He loved hunting, fishing, playing cards, watching sports and most of all, being with family.
David is preceded in death by his parents Edwin J. Olson and Orma L. (Laughnan) Olson; brother, Charles T. Olson; and grandson, Cory Winters.
He is survived by the mother of his children, Elaine Beauvais; his five daughters, Patricia (Jeffry) Ginter, Tamera (John) Seibel, Brenda (Timothy) Winters, Renee (Christopher) Paluch, Suzanne (James) Burant; 14 grandchildren Melissa (Shay), Audrey (Lance), Kendall, Shane, Nicole, Mary, Anthony, Conner, Natalie, Logan, Kally, Lisa, Emily, and Daniel; great-grandchildren Maksim, Jaeger, and Kai; sister, Mary (Roger) Michaud; brother, Ed (Peggy) Olson; many nieces and nephews; and close family friend, Randy Thompson.
Visitation will be on Sunday, April 23, 2017, from 5-7 p.m. at the Cullen Crea Funeral Home. Mass of Christian burial will be held on Monday, April 24, 2017 at 11 a.m., with visitation at 10 a.m., an hour prior to Mass, at St. Anne's Catholic Church in Somerset, Wis. Military Honors will be provided by the Somerset American Legion.