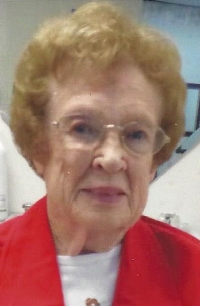 Darlene Adella Friedland, age 94, of Spring Lake Park, Minnesota passed away on Wednesday July 19, 2017.
She was preceded in death by her beloved husband, Walter; two sisters; one brother; and grandson, Brian Kuiper.
Darlene is survived by her children, Bill (Karla Erickson) Friedland, and Judy (Tony) John; grandchild, Amy (Mark) Haughn; great grandchildren, Jacklynn Haughn, Devin Haughn, Taylor (Alyssa) Kuiper; great great grandchild, Hazel Kuiper. Also survived by Cheryl Kuiper; and many nieces, nephews, and cousins.
Visitation will be held at 9:30 AM on Tuesday July 25, 2017 at the Miller Funeral Home 6210 Hwy 65 NE Minneapolis, MN 55432. Funeral Service will be held following the visitation at 11 AM at the Miller Funeral Home. Interment at Morningside Cemetery.
In lieu of flowers, memorials are preferred to JA Wedum Residential Hospice 9350 Noble Pkwy N Brooklyn Park, MN 55443.