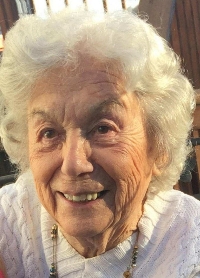 Cyrella Marie Kieckhoefer Flandrick, age 91, of New Richmond, Wisconsin passed away on July 28, 2018 at Regions Hospital. She was born on January 1, 1927 to Albert and Bernice (Bazille) Kieckhoefer in New Richmond, Wisconsin. Cyrella had a strong faith, she was a long-time member of St. Anne's Catholic Church. One of her favorite things was spending time with her children, grandchildren, great grandchildren, and great-great grandchildren. She enjoyed the outdoors, taking care of her yard, gardening, and cutting grass; she was still pulling weeds two months ago. Cyrella had many wonderful travel experiences with family and friends. She enjoyed fishing, hunting trips to Wyoming and Iron River, Wisconsin. She hosted the annual 4th of July picnic with family and friends for many, many years at her beloved river home. In her younger days, she and Dick loved to go dancing with their friends.
Cyrella was preceded in death by her parents; beloved husband, Dick; son, Skip; daughters, Debbie Demulling, and Becky Flandrick.
She is survived by her daughters, Barb (Dave) Hedin, Cindy (Rick) Breault; son, Rick (Nancy) Flandrick; 10 grandchildren; 21 great grandchildren (soon to be 22); 2 great-great grandchildren; and many more who call her Grandma. Also survived by brother, Gerald (Rita) Keickhoefer; daughter-in-law Bette Boumeester; and many nieces and nephews.
Mass of Christian Burial will be held at 11 AM on Thursday August 2, 2018 at St. Anne's Catholic Church in Somerset, Wisconsin. Visitation will be held for one hour prior to Mass at the church. In lieu of flowers, memorials preferred.