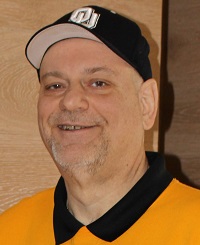 Clifford Dewayne Price of New Richmond, Wisconsin passed away on May 3rd 2017 at the age of 59 after a hard nine-month battle against cancer. He was born September 18, 1957 to Donnie and Duane Price, and grew up in Princeton, Texas, where he graduated high school in 1976. He married Judy Hartsfield on July 2nd, 1992 in Las Vegas, Nevada. He was employed by SMC, Ltd. in Somerset, WI for the past fourteen years.
He is survived by his wife and best friend Judy Price, his daughter Misty Price, his mother Donnie, and brother Jim as well as many other loving aunts, uncles, nieces, nephews, in-laws, and cousins. Cliff is preceded in death by his sister, Cheryl Price, and his father.
He was an avid fan of the OU Sooners, Dallas Cowboys, Green Bay Packers, and the Texas Rangers. He loved golf and NASCAR. Once he got to know you, his quick wit and one-liners would have a whole room laughing. He had a heart as big as Texas, and would do anything for anybody in need of an extra hand and lived his life doing his best to treat people and animals both, with respect and integrity. His daughter was the apple of his eye, and he loved his wife more than anything else in the world.
Visitation and funeral services will be at Turrentine Jackson Morrow in Allen, Texas. Visitation will be held on Saturday, May 6th from 6-8 PM, and the funeral will be held at 2:00 on Sunday, May 7th. Burial services will be held at Coleman Cemetery, in Coleman, Oklahoma.