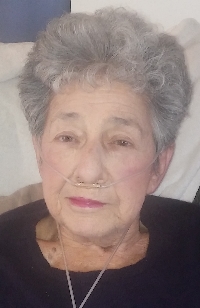 Claire "Judy" E. Arand (nee Martin) died peacefully on May 16, 2017 at the age of 84. She was born on July 27, 1932 to Ralph and Harrisonette Martin (nee Ewald).
She was preceded in death by her parents; her husband, Lou; her son, Michael; and her brother, Ralph Martin. She is survived by her children, Tim (Bough) Arand, Conni (Gary) Barger; daughter-in-law, Tracey; grandchildren, Kevin (Laura) Arand, Tom (Leah) Arand, Michael, Mitch and Mikaela Barger; and four great grandchildren, Kaden, Cooper, Delaeney and Tuck Arand.
She lived her life in Cincinnati, Ohio until the last few years when her health began to decline. Judy loved her family so much. She also loved her bingo, trips to the casinos to play the slots, and clothes shopping.
Judy will always be remembered for being fun loving and full of life. She will be missed by her beloved family.
Funeral Mass will be held at 11 AM on June 1, 2017 at St. John the Baptist Church (509 Harrison Ave Harrison, Ohio). There will be a Celebration of Life at Harrison Civic Center (9940 New Haven Road Harrison, Ohio) following the Mass at church. A private interment will be held at St. Anne's Cemetery in Somerset, WI. In lieu of flowers please consider donating to Judy's church, St. Anne's Church 141 Church Hill Road Somerset, WI 54025.