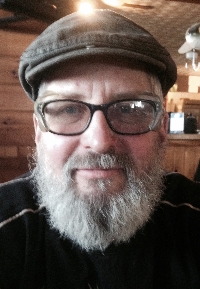 Bryce Keith Curtis, age 56, of Bayport, Minnesota passed away surrounded by his loving family on March 30, 2018. He was born on December 30, 1961 in Red Wing, Minnesota. Bryce worked as a diesel mechanic for 37 years, was an avid outdoorsman, and enjoyed spending time up north at the cabin with family and friends. He was always listening to the Grateful Dead; 'Ramble on Rose' guided him on his final journey. Bryce left his family and friends with the following Grateful Dead lyric "Standing on the moon with nothing left to do. A lovely view of heaven but I'd rather be with you."
He was preceded in death by his mother, Evangeline Curtis (Berg); grandparents; many aunts, uncles and other family members. Bryce is survived by his loving family, wife of 25 years, Missy Curtis (Widenstrom); daughter, Randi Curtis; son, Joe Curtis; beloved dog, Stella; father, Keith Curtis; siblings, Brent (Terri) Curtis, Craig (Sharon) Curtis; nieces and nephews, Jae Curtis, Jennae Curtis, Cassie (Josh) Renneke, Neil Curtis (Jessie Ehlen), Garret (Liz) Curtis; great nieces and nephews, Jake, Owen, Claire and Gage Renneke, and Paxton Curtis. Also survived by his father and mother-in-law, Dennis and Jean Widenstrom; brothers-in-law, Paul (Shannon) Widenstrom and their daughter Brittany (John), Ryan Widenstrom and his children Mia and Chace; sister-in-law, Cindy Lukacs (Widenstrom) and her children Zoey, Natasha, and Anika; great nephews, Arian, and Jaylon. Also survived by countless other family and friends.
Mass of Christian Burial will be held at 1 PM on Thursday April 5, 2018 at ST. JUDE of the LAKE CHURCH 700 Mahtomedi Ave, Mahtomedi, MN. Following Mass, join family and friends for a Celebration of Life from 5-7 PM at AAMODT'S APPLE FARM 6428 Manning Ave N Stillwater, MN. Please wear your Grateful Dead clothes to the Celebration. Family would prefer memorials in lieu of flowers.