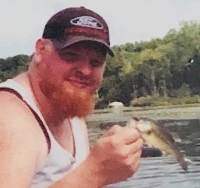 Brian Arthur Cook Jr., age 38, of Osceola, Wisconsin passed away on May 4, 2018 after a yearlong brave fight with cancer at the University of Minnesota Medical Center in Minneapolis, Minnesota. He was born on June 18, 1979 in Bessemer, Michigan to Brian Arthur Cook Sr. and Rosemary Cook (Tibaldo). In 1997, Brian graduated from Lakeland High School in Minocqua, WI. In 1998, he graduated from Wyo Tech College in Laramie Wyoming.
Brian was preceded in death by his mom, Rosemary Cook; grandmother, Arvesta Tibaldo; grandfathers, Butch Tibaldo and John Cook; father-in-law, Gerald Boucher.
He is survived by his beloved wife, Tammy (Boucher) Cook; children Kaitlyn (George Bonsness) Rice, Kaleb Cook; grandchild, Axel Bonsness; father, Brian Arthur Cook Sr.; grandma, Leola "Ducky" Cook; siblings, Jennifer (Mike) Bruzas, Jessica (Jared Anderson) Cook, Joe (Adrian) Johnson. Also survived by mothers-in-law, Deb Evans, Charlene Boucher; father-in-law Mark Evans; brothers-in-law: Jared (Jodie) Boucher, Chris Breault, and Todd Breault; nieces and nephews, Alexis, Logan, Owen, Joey & Erik. Brian is also survived by many aunts, uncles, cousins and countless other family and friends.
Brian loved life. He loved his family, his wife, kids and grandson, fishing, hunting, mud bogging, riding his wheeler, bonfires, and spending time with his friends. Brian had developed many special friendships over the years and it can honestly be said that if you were Brian's friend, he considered you family. Especially those he called his ogre brothers. They had a special place in his heart.
He wanted more than anything to beat his cancer and stay on this earth because he had so much more to do here. He had plans. Teaching Kaleb how to shoot a gun and how to drive, getting Axel a little 4-wheeler, plans for improving his mud truck, the next bogging season, the next fishing outing- he had plans for it all.
But most of all, he wanted to be here to see his son graduate, he wanted to watch his grandson grow up, he wanted to spend time getting to know his brother.
His work here on earth was not done, but the Lord called him home, one can only assume the Lord had a truck in heaven that needed some work.
He's left behind many, many broken hearts. These wounds will leave scars, and we will all heal at our own pace, in our own time. Rest assured in the knowledge that he's in a better place, free from pain and watching over each and every one of us.
Celebration of Life will be held from 1-3 PM on Saturday May 12, 2018 at the Cullen Crea Funeral Home.