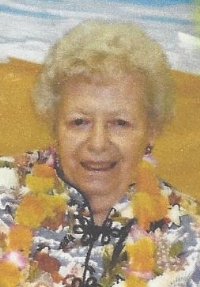 Bella Schindler, age 89, passed away on October 20, 2017 at the St. Croix Health Center in New Richmond, Wisconsin where she lived for the past four years.
She was born on December 19, 1927 to Raymond and Mercedes (Gondia) McLaughlin. She attended school in Sheboygan, Wisconsin. Bella had many hobbies and interests. She was an excellent seamstress, making more afghans than one could count. She also painted oils and charcoal, did ceramics and made baskets. Anything she could create, she did. Bella married the late Rudolph Eirich and had two daughters Susan and Vickie. In 1963 she married Fred Schindler and had a son Michael.
She is survived by her children, Susan (James) Zajkowski of New Richmond,Wi. and Michael Allen Schindler (Milwaukee, WI). Grandchildren, Tim Zajkowski and Wendi Smallidge; great grandchildren, Jake, Claire, Elliot, Joe, and Thomas; and special niece Judy Kurey who was like another daughter to her.
Bella was preceded in death by her parents; husbands,daughter Vickie Bauer brothers, Robert, Wade, Bain; and sisters, Marjorie McLaughlin, Mary (New Jersey), and Violet (Chicago).
A private service was held in Sheboygan at Green Lawn Memorial Park.