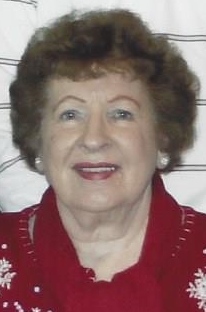 Audrey Mae Belisle, age 88, of New Richmond, Wisconsin passed away surrounded by her loving family on Tuesday April 4, 2017 at the St. Croix Health Center in New Richmond. She was born May 1, 1928 to Oscar and Matilda (Martinson) Peterson.
Audrey was preceded in death by her parents; husband, Wilbur; daughter, Patty; brothers, Raymond, Harlen, Mervin, Lyle, Clarence; sisters, Gladys and Loretta. She is survived by her children, Sharon Wold, Rick Belisle, and Debbie (Randy) Calleja; 9 grandchildren; 12 great-grandchildren; sister, Lorraine Soderquist; sister-in-law, Muriel Belisle; brother-in-law, Lowell Rivard.
Mass of Christian Burial will be held at 1 PM on Monday April 10, 2017 at the Immaculate Conception Catholic Church in New Richmond, Wisconsin. Visitation will be held for two hours prior to Mass at the church. Interment at parish cemetery with a luncheon immediately following at Ready Randy's in New Richmond.