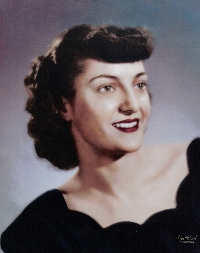 Arlene Mondloch, age 87, of New Richmond, Wisconsin was reunited with her beloved late husband Roland "Tony" Mondloch on March 1, 2017, while in residence at the Deerfield.
Arlene was born May 10, 1929 to Roland and Beatrice Bauer in Loyal, Wisconsin. She was a well-styled woman who loved gardening, bird watching, rearranging furniture; and the cabin at Cornucopia; but, mostly she loved her Tony and her family.
Arlene was preceded in death by her parents; husband, Tony; siblings, Virginia, Wallace, Sylvester, and Kenneth. Arlene is survived by her children, Steve (Pat) Mondloch, Kris (Jon) Hanson, Marilyn (Dennis) Sturdevant, Nancy (Kevin) Murphy, Mike (Ann) Mondloch, Lisa (Dave) Olson, and Teresa (Eric) Lakin; grandchildren Kim (Scott) Konkle, Jesse (Tara) Mondloch, Mark Sturdevant, Daniel (fiancée Andrea Hanson) Murphy, Andrew Murphy, Kai Mondloch, Bradley Mondloch, Emily (Justin) Spahn, Jake (Ryan Reid) Olson; great grandchildren Weston and Cambria Konkle, Abigail Mondloch, and Mirielle, Henry and Oliver Spahn. Arlene is also survived by one sister, Mae "Boots" Trampush of Loyal, Wisconsin.
A very special thank you to The Deerfield and St. Croix Hospice staff.
Funeral service will be held at 12 PM (noon) on Saturday March 4, 2017 at the Deerfield Chapel Auditorium in New Richmond. Visitation will be held on Friday March 3, 2017 from 4-7 PM at the Cullen Crea Funeral Home and also one hour prior to the funeral at The Deerfield.