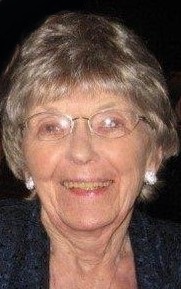 Arlene (Brennan) Germain, age 89, of St. Paul, Minnesota passed away on Thursday February 23, 2017. Arlene was born on February 15, 1928 to Clarence and Kathryn (Maloney) Brennan.
She was preceded in death by her parents; husband, Malcolm "Frenchy" Germain; son, John Joseph Germain; sister, Jean Kearns; brother, Gerald Brennan.
Arlene is survived by her children, Janelle Germain, Anne (Sean) Beauclaire; grandchildren, Chad (Jacki) Shugart, Jake Beauclaire, Brekken Beauclaire; great granddaughter, Giada Shugart; siblings, Kay Murray, Bette Stephens, Mary (John) Nelson, Doris (Bob) Maitrejean, Audrey (Bill) Nisbit, Jim (Kay) Brennan, Robert Brennan, Sharon (John) Sias, Carol (Ken) Boyd, Ann Williams, Pat Brennan. Also survived by many nieces and nephews; dear friend Joy Hansen; countless other friends, special neighbors, and her mail lady.
Funeral Service will be held at 11 AM on Monday February 27, 2017 at St. Patrick's Catholic Church in New Richmond, Wisconsin. Visitation will be held for one and a half hours prior to Mass at the church. In lieu of flowers memorials preferred to Minnesota Lions Eye Bank, mnlionseyebank.org.
Her Irish eyes are smiling now.