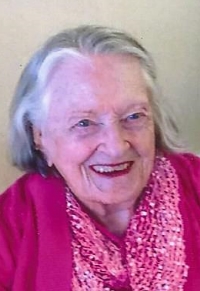 Anne Evangeline Hawkins Johnston, age 102, of Northfield, MN (formerly of New Richmond, WI) passed away on August 18, 2017 at Three Links Care Center.  Anne (actually baptized "Anna" but wanted a less "old world" name later on) was born in the Town of Warren, Wisconsin on March 26, 1915 to George Oliver and Mary Margaret (Casey) Hawkins. She was the second child and oldest of 5 living children.  She attended Roberts School for all 12 grades and received an RN from St. Mary's Hospital School of Nursing in Minneapolis, Minnesota in 1936. After her graduation from Nursing School, Anne continued to work as an RN at St. Mary's Hospital in Minneapolis until October 22, 1941 when she married William "Bill" Robert Johnston, also of Warren and with whom she had attended Roberts High School, at Immaculate Conception Catholic Church in New Richmond, Wisconsin.
After their Marriage Anne and Bill took up residence in Roberts, Wisconsin where Bill managed the Consolidated Lumber Yard and Anne managed the lumber yard office.  Anne and Bill had 3 children – Anne Kathleen, Virginia "Ginny" Mary, and Lawrence "Larry" William. Later Bill bought the Shell Gas Station in Roberts, built a new addition for doing automotive repair and drove to St. Paul, MN at night to take classes on the mechanics of the rapidly evolving automobile.
Anne was a "stay-at-home" mom – maintaining a large garden and canning (later freezing) a large supply of vegetables and fruits which would last her family for a good share of the winter.  Also the "stay at home" mom made most of the children's clothes, accompanied our local physician (in this town of ~300) on house calls or visited the sick on the Doctor's orders to change dressings and any other such things that might be needed.  She was actually the Public Health Nurse – putting up quarantine signs on houses with communicable illness, and managing the vaccination program at school along with another nurse in town, etc. Additionally – she would occasionally drive to a service garage in New Richmond, WI if Bill needed someone to pick up a necessary part in order for him to complete service on a patron's vehicle. Anne and Bill were very active in the life of the community, also doing whatever they could for the war effort (WWII).
In September of 1957 Bill died suddenly of a ruptured appendix and peritonitis, requiring Anne to study for the Wisconsin State Boards of Nursing in order to be able to support her young family. While continuing to live in her home in Roberts, she returned to her nursing career at Holy Family Hospital in New Richmond, WI, loving it more and more as she adjusted to her new roles. Anne's family and her work as a nurse were always foremost in her life. Each day after her work at the hospital was finished she would also stop to check on her aging parents (who lived in New Richmond) to see how they were doing and visit for a few minutes. In spite of these added responsibilities she continued to have a large garden, putting up fruits and vegetables for the winter – filling the house with wonderful aromas, and sewing beautiful clothing for her family. When the time came she put all three of her children through college.
In 1980, Anne retired from nursing but remained involved, teaching an "I Can Cope" class about living with and surviving cancer. She took blood pressures in Roberts one day/month and also whenever anyone would call to request a BP check. She enjoyed singing in the funeral choir at Immaculate Conception church in New Richmond and crocheting beautiful Afghans for grandchildren or people whom she wanted to thank for something.  This period of Anne's life also provided her with more available time for her continued uplifting written correspondence with relatives and friends from all through her life in her beautiful handwriting.
In later years her brother Mark sold the Hawkins family home in New Richmond and came to live with Anne in Roberts for their mutual benefit and companionship.  But on Dec 12, 1989 Mark died suddenly of a heart attack in his sleep and after Anne found him and took care of everything that needed to be done she also had a heart attack.  Anne looked so pale and frail after that – but slowly she was back on her feet and again. She sold the home that she and Bill had bought in Roberts nearly 50 years before and moved to a condo in New Richmond just a few doors away from her brother George and his wife. No longer having the long drive from Roberts to New Richmond, Anne was able to focus more on her church (Immaculate Conception) and to play a bigger role in the funeral choir and helping out in the church library.  It was during this time that she began to develop a long-lasting relationship with a Prayer Partner from the Catholic Grade school (Jessica). Anne would attend her Prayer Partner's events, and over time they would have luncheons together. When Jessica went on to college they continued to correspond by letter right through Jessica's career and marriage and through the birth of Jessica's 4 children right up to the present day.
On January 28, 2000, her brother George also died of a sudden heart attack and once again, shortly after getting things in order for her brother – Anne had another heart attack.  After the second heart attack, Anne didn't want to live alone anymore and moved into the Deerfield Independent Living facility in New Richmond.  She quickly adapted to her new community, even serving as Secretary of the Resident Council in 2003.
In 2005, on the Friday following Thanksgiving, while visiting at the home of one of her daughters – Anne took a fall backwards down a half flight of stairs and was rendered unconscious.  At first, upon regaining consciousness in the ambulance, she was amazed to find that anything had happened to her.  She was doing well and planning to go home from the hospital the following Sunday when she awoke to find that she couldn't speak at all.  Surgery to seek and relieve any fluid on the brain revealed no fluid on the brain. Anne was diagnosed with late-onset epilepsy, beginning the long period of amazing recoveries interspersed with amazing set-backs. She regained her speech and had several good years again, during which she continued to enjoy her family- even going out to our homes or restaurants sometime to celebrate birthdays with her sister Mary, etc.
In 2007, again struggling with loneliness, Anne moved to the assisted living facility at Millstream Commons in Northfield, MN – the town where one of her daughters lives. At age 92, the adjustment was difficult but once again she began to adapt and enjoy her companions there until another fall on February 28, 2009 left her with a hairline fracture in the pelvis. She was sent to Three Links Care Center in Northfield for rehabilitation which was not successful and she remained at Three Links care center, physically unable to return to Millstream Commons .  After this there was a slow physical decline over the 8 final years of her life from walker to wheelchair to mostly bedridden, with loss of ability to speak for about the last 2 years. Never-the-less – Anne continued (with her warm beautiful smile) to make friends and to visibly extend love and comfort to others, even if neither could talk.
She was preceded in death by her husband, William "Bill" Robert Johnston; parents, George and Mary (Casey) Hawkins; brothers, James Peter, George, Marcus, and Roy Thomas; sister, Mary (James) "Jim" O'Shea.
Anne is survived by her children, Anne (Robert) Smith, Virginia "Ginny" (George) Kinney, and Lawrence "Larry" (Diane Stoddard) Johnston. Grandchildren, Katherine (Tomas) Flesher, Sarah (Kassem) Smith-Karim, Margaret "Maggie" (Richard) Pipek, and William "Will" (Caitlin Schaller) Johnston; great-grandchildren, Teo & Clara Flesher; Ewan Smith-Karim, Colin & Amelia Pipek; many nieces and nephews; other loving family and friends; and Prayer-Partner Jessica (nee Mitchell) Thomson.
Mass of Christian Burial will be held at 11 AM Saturday August 26, 2017 at the Immaculate Conception Catholic Church in New Richmond, WI. Visitation will be held for one hour prior to Mass at the church.
Memorials to The Hazel Mackin Community Library , 311 West Warren St. , Roberts, WI 54023 ; 715-749-3849  HMCL@robertspubliclibrary.org or The University of Minnesota's Department of Neuroscience Fund https://www.med.umn.edu/news-events/medical-bulletin/u-teams-hcmc-and-abbott-study-traumatic-brain-injury.