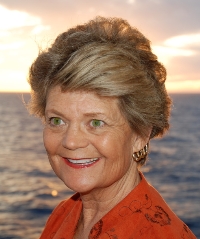 Maxine Mary (Nee Crea), age 72, of Camarillo, CA, died peacefully at her home, in the presence of her family, on Tuesday, May 17, 2017.  Maxine was born on May 21, 1945 in Saint Paul Minnesota. She earned a Bachelor's Degree from the University of Minnesota, from St. Cloud State University, and Masters from California Lutheran University. Maxine had a passion for education, leaving such a positive impact on so many around her.  She taught English, Social Studies and History at Monte Vista Junior High School in Camarillo, and retired from Pleasant Valley School District after 34 years. She was preceded in death by her father, Frederick Francis Crea and her mother Geraldine Cyrilla (Tobisch). Maxine is survived by her loving and devoted husband of 48 years, James Gamboni; son, Steven Gamboni, daughter Julie Gamboni; and grandson, Isaiah Oler, all of Camarillo CA.  Survived by siblings Corine Crea of Stillwater MN, Ken (Marg) of Roseville, John (Susan Barghini) of St. Paul, Mary Crea of Nassau, N.Y., Fred (Lisa Ledin) of Minneapolis, Susan Crea-Tighe (Mark) of Minneapolis, Michael (Nina Potter) of St. Paul, Russell (Tami) of St. Bonifacius.  Maxine was very active in Garden Club, Quilting and Flower Design. Maxine was a vivacious, beautiful woman that loved life and travel. She will be greatly missed and always loved.
Memorial Services will be held at Conejo Mountain Funeral Home and Memorial Park, 2052 Howard Road on Saturday, May 27, 2017 at 11:00 a.m. Celebration of her magnificent life will follow the service in the Conejo Mountain Community Room.  Interment of cremated remains will be at Arvin National Cemetery.  Memorials preferred to charity of donor's choice.
Minnesota services will be held on Saturday June 3, 2017. Mass of Christian Burial will be held at 10 AM at the St. Michael's Catholic Church in Stillwater, Minnesota. Visitation will be held for one hour prior to Mass at the church atrium. Following Mass, family and friends will be gathering for a Celebration of Life around 1 PM at the St. Croix Bluffs Regional Park 10191 St Croix Trail S, Hastings, MN 55033.