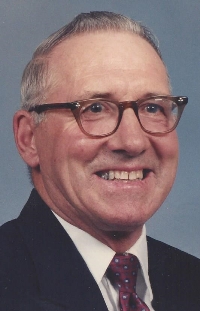 Wilfred "Willie" Maitrejean, age 92, of New Richmond, Wisconsin passed away February 15, 2017 at the St. Croix Health Center. He was born on October 11, 1924 to Pearl Joseph and Delia (Germain) Maitrejean. Willie worked for the Soo Line Railroad for 42 years, retiring in 1986. He had a passion for volunteering, he called bingo and cooked brats at Maple Manor for many years, was a blood donor, an usher at Immaculate Conception Church and volunteered for over 20 years at the St. Croix Health Center. Willie was also a member with Knight of Columbus in the New Richmond Council for 72 years.
Willie was preceded in death by his parents; beloved wife, Katherine; daughter, Patty Scott; son-in-law, Darwin Green; siblings, Edward (Agnes) Maitrejean, Ione (Bud) Larson, Marianne Ball; brother-in-law Charles Zahnow.
He is survived by his daughter, Jean (Maitrejean) Green; siblings, Robert (Doris) Maitrejean, Corinne Zahnow; granddaughter, Anna Green; and many nieces and nephews.
Funeral Service will be held 11 AM Monday February 20, 2017 at the Cullen Crea Funeral Home in New Richmond. Visitation one hour prior to the service at the funeral home. In lieu of flowers memorials preferred to the family.